In 2017, the West Valley had three softball teams qualify for the playoffs, with Sunrise Mountain losing the 4A title game and Cactus advancing to the semifinals, but as 2018 gets underway, the Valley has strong contenders for this season.
Sunrise Mountain opened the season with a win at its annual tournament Feb. 24 at Pioneer Park, taking the title game over Scottsdale Horizon, as other teams get their season underway this week.
Here are capsules on the area teams:
CACTUS COBRAS
Head coach: Bartt Underwood (7th at Cactus, 25th overall)
Last year's record: 27-6 (overall), 9-1 (4A West Valley Section)
Last playoff appearance: 2017 (Lost semifinals 4A playoffs)
Key losses: Ursula Del Campo, Jade Osterhoudt, Brynlee Gibbs
Top returning players: Alynah Torres, Emilie Guerra, Kaytlin Leyvas, Aubrey Chavez, Cason Gambs, Nicole Osteen
Review: Cactus returns with one of the top players in the state in Alynah Torres and a returning squad that is one of the top teams in the state, after falling in the semifinals last season.
"Torres leads by example, work ethic and a positive attitude," Underwood said. "She has tremendous power and opponents don't give her much to hit; she still had 71 hits and 71 RBIs in 33 games last year."
Also returning are pitcher/first baseman Emilie Guerra, catcher Leyvas, third baseman Chavez, second baseman Nicole Osteen, and right-fielder Carson Gambs.
The Cobras have three freshman newcomers in pitcher McKenna Feringa, outfielder Grace Seale and second baseman Hannah Difabio; all will battle for playing time.
"(Feringa) is a freshman pitcher who hits her spots well and has great composure on the mound," Underwood said. "Throw her in with Guerra, who has pitched for four years, who doesn't get rattled, and (Cassie Elliot) has pitched some big innings, and we should be strong on the mound."
Underwood said his team is playing in some of the top tournaments during the pre-season, including the Desert Mountain Invitational and Tournament of Champions (in Bullhead City) to see what his team can do.
"We are playing in those tournaments against some of the best competition we can find in the state," Underwood said. "In doing this, it helps us get up for our (region) games so we are playing at our peak come May."
Cactus should be considered one of the top teams in 4A, as well as the state, and should be battling for its sixth region championship.
"We have won five consecutive region championships (2012 to 2017) and we also have a 45 consecutive home-game winning streak, dating back to (2013)," Underwood said. "If we play together as one, play as a team and demonstrate that we care more about our teammates than we do ourselves, then, I believe we have a shot to reach our goal of a state championship."
SUNRISE MOUNTAIN MUSTANGS
Head coach: Jody Pruitt (16th at Sunrise Mountain)
Last year's record: 21-5 (overall), 8-2 (4A West Valley Section)
Last playoff appearance: 2016 (Lost first round Div. III Playoff)
Key losses: Hanna Krosky, Pilar Gutierrez, Kodi Ramirez, Tori Nowlin
Top returning players: Dallis Mitchell, Grace Schmidt, Jaymie Moore, Sydney Bickel, Summer Pells.
Review: The Mustangs have been one of the most consistent programs in the state, winning four state titles over the past 11 years and have won 85 percent of their regular season games with only one losing record (2016) in school history.
"Junior pitcher Dallis Mitchell has really taken the next step in the off season to step into our number one pitcher," Pruitt said. "Grace Schmidt, our senior catcher, is such a great leader and offensively is dangerous."
Jaymie Moore (outfielder) is a four year starter and sophomore Sydney Bickel (shortstop) return to lead the Mustangs' offense along with Summer Pells. Junior Kailey Maksim brings more offense and freshman Morgan Williams joins the squad that will be strong offensively.
"Our infield should be solid and we have great leadership and work hard at out-working our opponents," Pruitt said.
Schmidt returns after hitting .471 with 14 extra base hits and Bickel also returns after hitting .441 for the Mustangs last year.
Sunrise Mountain opened the season by winning its annual Sunrise Mountain Invitational, with Pruitt using it as a test for her team.
"We only participate in one tournament all year and it gives us a chance to see what our players can do and where we can put people to put our team in the best position to win," Pruitt said. "We need to take care of the softball defensively and get people on base, so we can put pressure on the defense. Our pitchers need to keep us in the games, but the most important thing is that we work hard for each other."
CENTENNIAL COYOTES
Head coach: Randy Kaye (2nd at Centennial, 8th overall)
Last year's record: 14-17 (overall), 4-2 (5A Northwest Section)
Last playoff appearance: 2016 (Lost first round Div. III playoff)
Key losses: Kaitlyn Mausser
Top returning players: Natalie Del Ponte, Alana Moran, Sydnie Sahaar, Makenzie Celeya, Dren Meginnis, Hailey Galvez, Aubrey Maya
Review: As the Coyotes lost top player Mausser, they return 15 players from last year's squad that won eight of their final eight games last season.
Del Ponte, Moran, Celeya, Meginnis and Galvez return to lead an offense that should put runs on the board with freshmen Meghan Golden and Chloe Hetrick bringing great size, speed and athleticism to a squad that will have great depth this season.
"Galvez is always vocal with great energy and loves to play the games, and it shows," Kaye said. "(Sahaar), who is returning from injury, leads by example and is a hardworking, experienced pitcher."
After starting last season losing eight of their first 10 games, Kaye said his goal during the pre-season is to have his team get off to a better start.
"I would like to use pre-season tournaments to get off to a good start and, if possible, get to see players in different positions," Kaye said. "We need to get our pitchers some time and see what we have."
He added that his team needs to stay healthy and continue to build chemistry as a team and embrace each person's role and play the game they are asked to play.
"My hopes are real high and the girls know what my expectations are. I will keep those within the program," Kaye said. "But, I think it would be a great season, if we compete as a team and continue to grow as a staff. After that, I like really our chances."
KELLIS COUGARS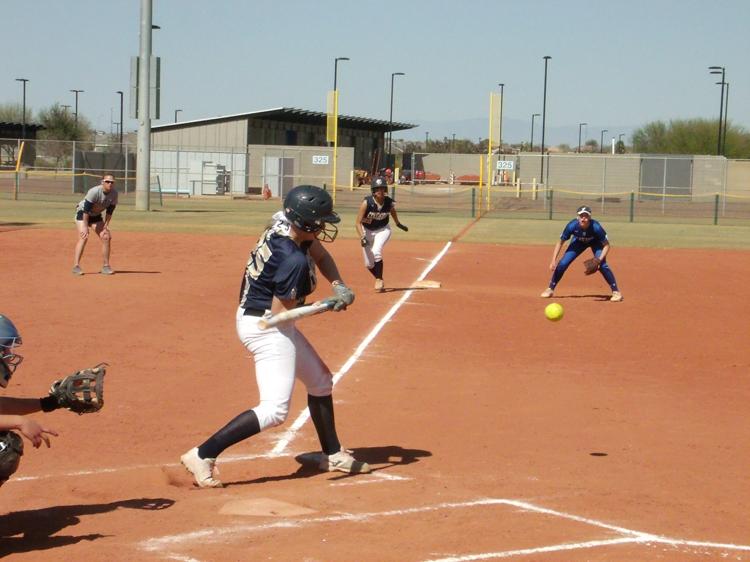 Head coach: Emily Gerlick (3rd year at Kellis)
Last year's record: 3-23 (overall), 2-8 (5A Metro Section)
Last playoff appearance: 2016 (Lost first round Div. III Playoff)
Key losses: Destiny Beard, Payge Pearce
Top returning players:
Review: Entering her third year as head coach, Gerlick faces a monumental challenge in rebuilding a program that has won 10 games over the past two seasons.
The Cougars return 11 players from last season that earned quality playing time and look to make major improvements on the field.
Kellis has to improve its defense as the team allowed an average of 12.7 runs per game (345 runs in 27 games), while only scoring 4.7 per game (129 runs).
While they should improve on their three win season, the Cougars have only five seniors and should be building for a strong future for the program.
LIBERTY LIONS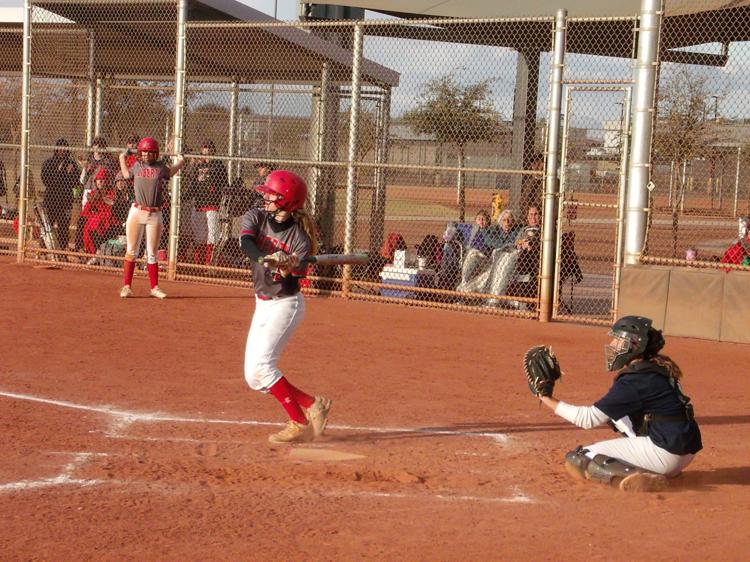 Head coach: Kara Holtorf (4th year at Liberty)
Last year's record: 13-14 (overall), 1-6 (5A Northwest Section)
Last playoff appearance: 2016 (Lost first round Div. III Playoffs)
Key losses: Alyssa Ward, Kylie Harris, Taylor Clarke, Tatum Whitlock
Top returning players: Logan Beasley, Tatum Chestnut, Becca Woolf, Mia Leal
Review: The Lions return nine players from a team that just missed the playoffs last season.
PEORIA PANTHERS
Head coach: Freddy Castro (1st year at Peoria)
Last year's record: 15-13 (overall), 4-6 (4A West Valley Section)
Last playoff appearance: 2016 (Lost first round Div. III Playoff)
Key losses: Taylor Stott, Julie Olibarria
Top returning players: Marisa Branch, Elisa Granado
Review: The Panthers return four seniors in Marisa Branch, Ariella Espinoza, Malia Herrera and Dezarae Licudine to a team that finished two games over .500 last season. With a young team of nine underclassmen returning, the Panthers should improve on last season and build a push for the playoffs this season.