The Centennial football team's season was broken into two parts, its only loss to Peoria Liberty and after that game.
The season was capped off with a dominating 42-21 victory over previously unbeaten Scottsdale Notre Dame Prep to secure the 5A state title Dec. 2 at University of Arizona Stadium in Tucson.
"It's amazing," said Coyotes quarterback Ruben Beltran after the win. "It is redemption for us after coming from last year's loss and coming out here in Tucson to get our title. We knew what we were supposed to be doing out of the gate."
After both teams battled back and forth in the first quarter, the Coyotes broke through in the second with three touchdowns and never trailed in the game.
Four minutes into the second quarter, Centennial running back Zidane Thomas broke through on a 68-yard touchdown run for the first score of the game.
Two minutes later, Beltran handed the ball off to wide receiver Alex Escobar, who raced around the outside and broke two tackles on a 13-yard touchdown run to extend the lead to 14-0. Centennial totaled 254 yards in the second quarter in pulling away early.
"The game transformed like we thought it would," said Centennial head coach Richard Taylor. "When (Thomas) scores like he did early in the second, it is a big spark for our team. Things up til then were tense and we weren't moving the ball very well. (Beltran) has been outstanding and he is a great guy that, for a lot of other teams, he would be the star, but when you have a back like (Thomas), we give him the ball a lot, but (Beltran) has been a key leader."
Thomas finished with 273 rushing yards and two touchdowns, while Beltran completed 10 of 12 passes for 165 passing yards and added 51 rushing yards and two rushing touchdowns for the Coyotes.
The Centennial defense was dominant, holding Notre Dame Prep to 112 rushing yards, nearly 150 yards below their season average. They held Notre Dame Prep running back Jake Smith, who had totaled 2,075 yards (1,109 rushing and 966 receiving) during the season to 114 total yards – 81 on one play.
"We felt that we had to keep (Smith) in front of us, because there is only one kid (defensive back Dominique Hampton) that can catch him on our team," Taylor said. "I know that he was offered by Alabama, and, how should I put this, it was an encouragement to our kids, because our kids think Thomas is pretty good. And I think they wanted to make sure that he had a better game than he (Smith) did."
That, he did, as Thomas pounded the ball all night for the Coyotes, running over the Notre Dame Prep defense and was key to the Coyotes' title victory. Leading 21 at halftime, Thomas broke through on the second play of the half and rumbled 61 yards, breaking five tackles en route to his second long touchdown of the game.
"I got hit at the line and then was just able to get away from a couple of guys and get into the open," Thomas said. "I like it when other players get it and we all see the ball and take pressure off each other, especially when we go into different formations and they come into the game because it makes it more special."
Notre Dame finally got on the board when Smith broke free from double coverage on the next play and took a crossing pattern and raced 81 yards for a touchdown with 11 minutes left in the third quarter.
"We knew this team had battled from behind a few times this season," Thomas said. "We just kept coming out on each drive like the game was tied at zero."
After the Notre Dame defense stopped the Coyotes offense, quarterback Kylan Weisser tried to toss a deep ball, but Dominque Hampton leaped over receiver Smith for an interception.
"I started the game (covering Blake Storey), but then, switched to Smith, so I could help on him," said Hampton. "So, when the coaches moved me over, I just got up over and was able to get the ball."
Beltran then took the ball and raced around the outside for a 30-yard touchdown run to secure the victory for the Coyotes.
Notre Dame would score two more times, but there was no question, this game belonged to Centennial.
"Even being down late, our kids just did not give up and they kept fighting," said Notre Dame Prep head coach George Prelock. "I am honored and humbled to be the head coach of this team and I could not be more proud of these kids."
Taylor became the first coach in Arizona history to win six state titles in the top two divisions of high school football (5A or 6A) by winning Centennial's sixth title in the past 12 years, with three coming in the past four seasons.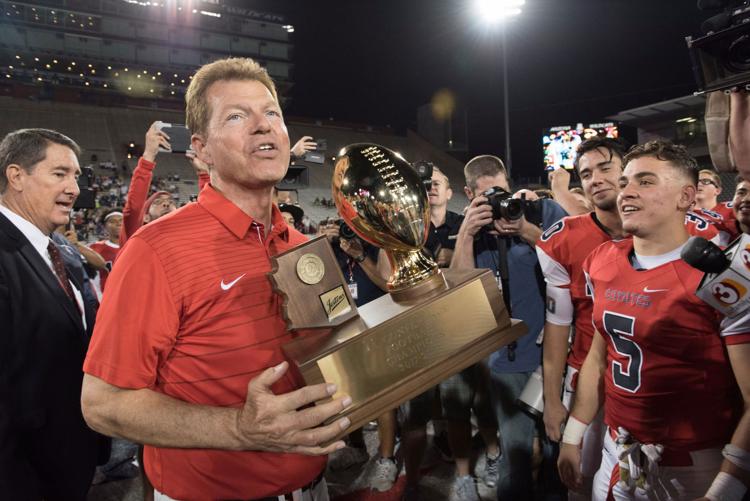 "It is hard, day after day, year after year, to continue to be successful," Taylor said. "We have to have people like (Centennial High School Athletic Director Brett) Palmer and he helps me as much as he can. This staff is just a bunch of middle class, working class people and they work hard for these kids each and every year and they are so giving. They help their kids and they help us. This community and our students make all that hard work rewarding."