As a sixth-grader, Cactus junior Brittnie Henige started playing volleyball at the local YMCA and now as she prepares for her senior season, she has a little less pressure after making a college decision.
Henige verbally committed to continue her career at University of New Mexico, and is now more focused than ever on bringing a championship back to Cactus High School.
"Our goal for the upcoming season is to win another region championship and to make a run for state and bring home the title," Henige said.
Henige, who was voted a captain of the Cobras as a junior, selected New Mexico but had interest from numerous schools.
"I chose (New Mexico) because they are a great volleyball school and I know (head coach Jeff) Nelson will push me to be the best player I can be," Henige said. "I had a lot of schools who were very interested me. It was very humbling and at times almost an overwhelming experience. I'm very thankful for all the schools and coaches that recruited me."
She said Nelson told her she could compete for a job from day one and Henige said he made her feel welcomed.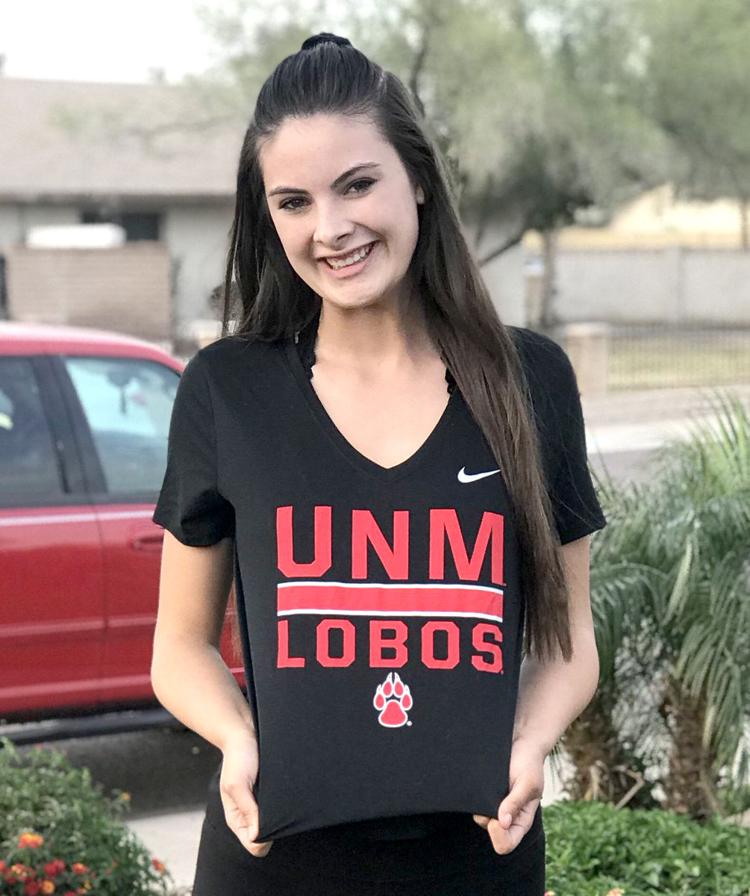 "With my first conversation with Coach Nelson I felt very comfortable with him and I first met him and some of the players at a local sand tournament and knew that UNM became a front runner school for me," Henige said. "A few weeks later, I visited the campus. After spending a day with the coaches and players, I knew UNM was a place I could call home."
She added that she has more goals when she begins her college career.
"My goal is to be an All-American and to help my team win a national title," Henige said.
Having grown up around volleyball, Henige said her family has been key in her success.
"I have been born into an athletic family and I have basically grown up in the gym with my dad coaching basketball and my mom coaching volleyball," Henige said. "I fell in love with every part of the game."
Her brother, Bobby, who is a starter for Benedictine University at Mesa that lost the NAIA National Invitational Tournament title game April 21, as well as her sister, Kennedie (who was a three time all-state player for Cactus), have been her biggest supporters.
"(My sister) is the reason I first fell in love with volleyball," Henige said. "She has taught me so much more than just the fundamentals, but taught me how to leave it all on the court. (Bobby) has taught me how to become a great leader and to face all the challenges that come up with being an athlete. With both of my older siblings having gone through the recruiting process, they have tremendously helped me on making decision to become a Lobo."
Henige was a leader on the Cactus team that finished 35-9 but lost in the semifinals to eventual 4A state champion Tucson Salpointe Catholic three games to one and was voted a team captain by her teammates.
"Being voted captain, it felt great to know that my teammates saw me as a leader and I loved being part of this team and encouraging my teammates to do their best," Henige said. "Going into the game, we knew we had something to prove with them knocking us out of the playoffs (in 2016). It was tough not winning a state championship because that was our goal from day one."
During the semifinal matchup, Henige shined, getting 18 kills, six in game four alone, before the Cobras fell in a decisive game five.
Henige said it makes her more focused on returning to dominance during her senior season.
"I definitely believe that we can win the title with having 11 returners on varsity. We are fortunate enough to know what each other's strengths and weaknesses are," Henige said. "Also, having (head coach Anthony) Puglisi there to guide us along the way, in my opinion, there is not one particular thing we need to change; we all have to be willing to show up every day, and put in the work to achieve our goals."