While another year has come and gone, local sports showed more Coyotes drama, local high school success and a Final Four spotlight to showcase in Peoria and the West Valley.
There was Centennial high school football continuing its dominance; Kellis baseball breaking through with their first championship; the annual Arizona Coyotes drama that continues to be one of the biggest questions in the Valley; Apollo boy's basketball falling one game short of a state title; the death of a local coaching legend; Glendale Community College showcasing its past; and  high school sports teams building new programs with early success.
As we close 2017 and look forward to 2018, here are the top 10 stories, as selected by the Peoria Times that showed sports success over the past 12 months.
Centennial wins sixth state championship
The Centennial football team's season was broken into two parts, its only loss to Peoria Liberty and after that game.
The season was capped off with a dominating 42-21 victory over previously unbeaten Scottsdale Notre Dame Prep to secure the 5A state title Dec. 2 at University of Arizona Stadium in Tucson.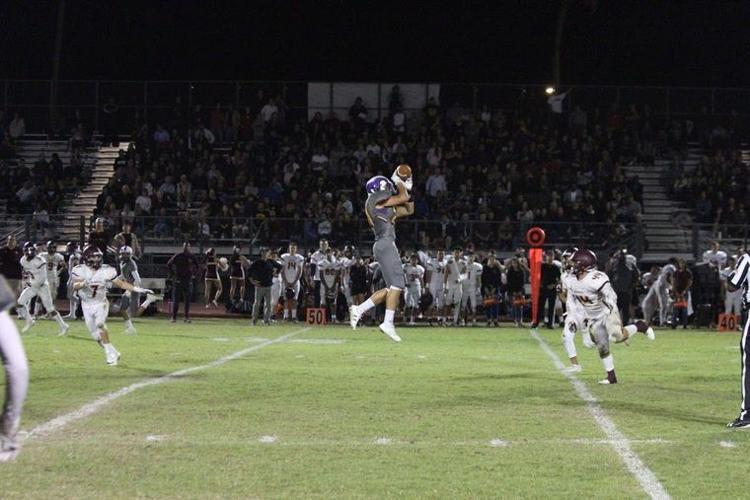 "It's amazing," said Coyotes quarterback Ruben Beltran after the win. "It is redemption for us after coming from last year's loss and coming out here in Tucson to get our title. We knew what we were supposed to be doing out of the gate."
After both teams battled back and forth in the first quarter, the Coyotes broke through in the second with three touchdowns - and never trailed in the game.
Four minutes into the second quarter, Centennial running back Zidane Thomas broke through on a 68-yard touchdown run for the first score of the game.
Two minutes later, Beltran handed the ball off to wide receiver Alex Escobar, who raced around the outside and broke two tackles on a 13-yard touchdown run to extend the lead to 14-0. Centennial totaled 254 yards in the second quarter in pulling away early.
"The game transformed like we thought it would," said Centennial head coach Richard Taylor. "When (Thomas) scores like he did early in the second, it is a big spark for our team. Things up 'til then were tense and we weren't moving the ball very well. (Beltran) has been outstanding and he is a great guy that, for a lot of other teams, he would be the star, but when you have a back like (Thomas), we give him the ball a lot, but (Beltran) has been a key leader."
Along the way in the season, the Coyotes started strong, winning their first nine games, including a 12-0 upset of nationally ranked St. Thomas Aquinas (Florida) in late September.
Kellis baseball wins first state title
Kellis baseball was forced to win a play-in game just to quality for the 5A state playoffs, then as the No. 13 seed, the Cougars faced an uphill battle. In their 12 years in existence, they had never advanced to the third round of the playoffs.
The Cougars completed an improbable playoff run with a 10-5 victory over Gilbert Campo Verde in the 5A state title game May 16 at Tempe Diablo Stadium to win the school's first baseball championship.
To get there, Kellis had  to win a play-in game against Deer Valley, topping the Skyhawks 6-4 to advance. Entering the playoffs as the No. 13 seed, the Cougars opened against No. 4 Buckeye Verrado, but gave a quick glimpse of the future with a dominating 11-1 victory.
"Once we got that win over Verrado (first round) under our belt, our kids started to believe, their confidence rose and they were playing for each other," Kellis coach Michael Deardoff said. "I felt like at the beginning of the year, we had a team that was good enough to compete, but it was just how good we were going to be depended on them maturing and coming together. They're a really tight-knit group. We played in close games all year long, so (once) we got into the playoffs, it was second nature to us."
In the title game, the Cougars dominated early, scoring two in the first before blowing the game open and jumping out to an 8-1 lead, but had to hang on for the championship.
"When we opened the season .500 after our first 12 games, we were struggling offensively, but our pitching kept us alive," said senior Nate Young. "We never doubted ourselves as a team and when we needed it, there was always someone that stepped up for us. I just know that everyone on this team supports each other 100 percent."
Sunrise Mountain softball falls short of title
After a magical season led them to a No. 3 ranking, and after missing the playoffs for the first time in school history in 2016, the Mustangs ran a streak to the 4A state title game May 9 with high hopes of winning the school's fifth title.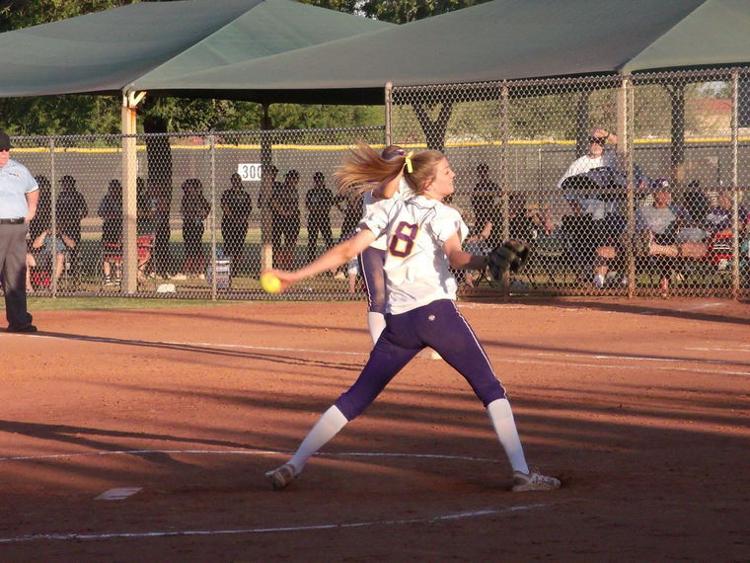 But lightning didn't strike twice for Sunrise Mountain, as No. 1 ranked Tucson Canyon del Oro jumped on the Mustangs early and held off a late rush to defeat the Mustangs 4-2 in the 4A state championship at Arizona State University Farrington Stadium.
Sunrise Mountain completed the season 21-5, after finishing with their first losing record last season (11-12) and after ending the season ranked third, head coach Jody Pruitt knows her program has turned things around.
"At the beginning of the year, I never would have believed we would be here right now," Pruitt said.
Entering the current season, the Mustangs had questions as to who would emerge as their key starting pitcher, but those questions were answered quickly as Hanna Krosky, who was not a pitcher entering the season, quickly took control on the mound to lead the team to the title game.
"We improved and I'm proud of this team. Besides, Krosky was not a pitcher entering this season and got better and better as the year went on. This game does not define our 2017 season," Pruitt said.
Junior hockey team placed into dormancy
After nearly nine years of ownership and struggles on and off the ice, Arizona Hawks owner and general manager Greg Schursky announced Oct. 2 the team has been placed in dormancy and the remainder of the 2017-18 season cancelled.
"About 2 p.m. (Oct. 2), I decided to make this team dormant for the remainder of the season," Schursky said. "I retain ownership and I, along with (head coach Jay Kouris), will start trying to recruit and get players for next season."
Teams in the Western States Hockey League consist of 16- to 20-year-old amateur players under the Junior A league, working to advance to earn college scholarships, or advance to the next level of professional hockey.
Schursky started the Hawks as an expansion team in 2009-10, but they have struggled since. His teams have made the playoffs twice in their existence, 2012-13 and 2015-16, but were eliminated quickly in their first game both times to the Fresno Monsters.
Sunrise Mountain football falls short of first state title
A season that began with dreams of a trip to the school's first state championship game ran into a sophomore Mack truck that ran through the Mustangs' defense in the semifinals to end the team's dream season.
Tucson Salpointe Catholic running back Bijan Robinson rushed for 303 yards and two touchdowns for a come-from-behind 49-27 victory Nov. 17 at Ironwood High School.
Salpointe Catholic (12-1) played Scottsdale Saguaro (11-2) Dec. 2 at University of Arizona Stadium for the 4A title.
"(Robinson) is a great running back and he made some big plays tonight that made a difference," said Sunrise Mountain head coach Steve Decker. "They are a great football team and we just can't turn the ball over that much and expect to win."
Freid finished with 156 yards passing and four touchdown passes and Ruiz finished with nine receptions for 119 yards and three touchdowns in the loss. Brody Webb had two sacks and Bo Moore added another, as the defense allowed the most points on the season.
"I'm not the happiest man in the world, but overall, we had a great season," Ruiz said. "We didn't get our main goal, but we had a pretty successful year and this was a special team. We just came up short on our goal and that is what hurts the most tonight."
Robinson and the Lancers' rushing game, which totaled 496 yards as a team, took advantage of a Mustangs defense that was on the field for long stretches during the game. Sunrise Mountain's defense had allowed an average of 247 yards a game coming into the semifinal matchup.
"Our defense has been our key all year and (Salpointe Catholic) just did a great job tonight," said Decker. "This has been an amazing season and to get this far (semifinals) for the first time in school history, it was just a great year. It always hurts when you lose, but they are a great team."
Underwood elected to Arizona High School Coaches Hall of Fame
Cactus softball coach Bartt Underwood, who spent 24 years at Centennial High School, was inducted into the Arizona High School Athletic Coaches Hall of Fame in June.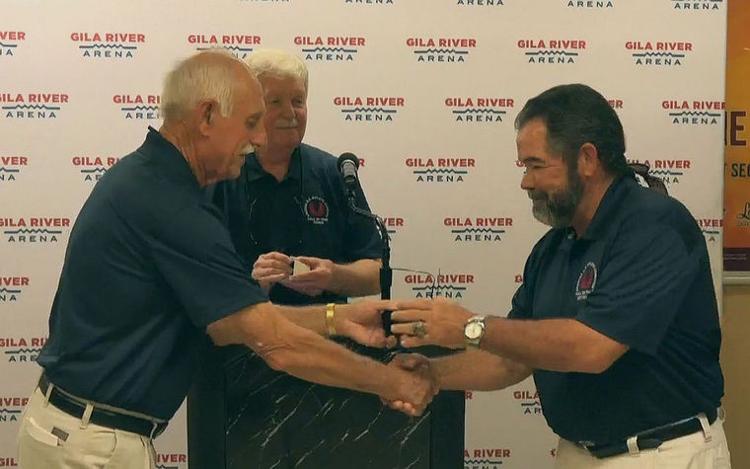 Underwood's teams have won 71 percent of their games during his career, with an Arizona state title in 2010, five state runners-up, and 13 region titles. Underwood served as the Coaches Association All-Star Coach three times and the All-Star Assistant Coach twice.  
Underwood is frequently sought out for clinics and personalized lessons. He has influenced 12 of his former players to undertake coaching softball, some at the Division I level.
Underwood has coached for 24 years, beginning in 1991 at Centennial High School to his current job as head coach of the Cactus softball team.
He has been Region Coach of the Year 13 times, and the West Valley Coach of the Year four times.
Final Four shines in the Valley
In a stadium normally used to hosting football and soccer games, the City of Glendale and University of Phoenix Stadiums showcased the National Collegiate Athletic Association's Final Four.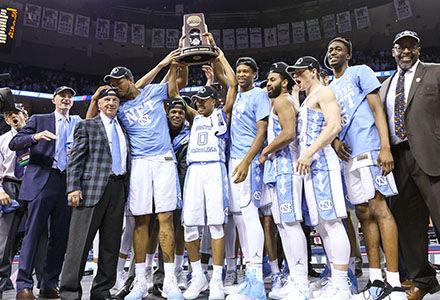 In the title game, North Carolina took home the national championship after defeating Gonzaga, 71-65. After falling short last season, the Tar Heels have a lot to celebrate. Joel Berry helped lead North Carolina, scoring 22 points while posting six assists and three rebounds. The point guard was named the most outstanding player. Isaiah Hicks contributed with 13 points and Justin Jackson with 16.
In the semifinal games, Gonzaga topped South Carolina 77-73 before North Carolina topped Oregon 77-76 to advance both teams to the National Championship game.
The stadium hosted the second highest attendance ever for the national semifinals as 77,612 were crammed into the stadium. The record is 79,444 during 2014 in Dallas.
GCC baseball coach retires after 40 years
After 38 seasons as part of the Glendale Community College Gauchos athletic department, head baseball coach Dave Grant finally sees the light at the end of the tunnel in his career, as he prepares for his final game and heads into retirement.
"I think it is time to take a break and try some things and see what else is out there, while I am alive and upright," Grant said. "I don't want to wait too long to retire and I am still in fine health and can continue, but I just feel the time is right."
Grant, 66, started teaching English at GCC in 1980 and knew entering this season it was going to be his last. He has remained committed to teaching and coaching, just as he since he began by creating the "best, most productive, most positive environment" he could to allow his athletes and students to perform at their best.
Grant recently joined the 1,000-win club when the Gauchos topped Paradise Valley 4-3. He was named to the NJCAA Baseball Coaches Hall of Fame in 2007, and selected to the Arizona Baseball Coaches Hall of Fame in 2002. He coached the USA Junior National Baseball team in 2001.
The USA Junior team, which won a silver medal, featured the likes of future major leaguers Scott Kazmir, Jeff Francoeur, and B.J. Upton.
"Based on feedback from players, 1,000 wins was important and I think I am happy that our program has had such a positive impact on players' lives, careers and education," Grant said. "The fact that a lot of players and students have become quality husbands, fathers and members of the community are more important than wins and losses."
Grant said the success of his program, as well as community college athletics, has changed so much over the years.
"The challenge and competitiveness is what I will miss the most," Grant said. "Our league has become so competitive that every game is challenging and I will miss the adrenaline of knowing that every game is a challenge."
After nearly 40 years, Grant had immense success, including in 1991 when GCC finished third at the National Junior College World Series with a team that featured former major leaguer Paul LoDuca. Grant also coached the 2003 GCC team, which finished seventh at the NJCAA Division II World Series in Millington, Tenn.
He has coached hundreds of players that have been drafted by Major League Baseball, including Mark Finney (Deer Valley High School), Eddie Bonine (Mountain Ridge) and LoDuca (Apollo) and points to LoDuca as one of his biggest success stories.
Annual Arizona Coyotes drama
Another year began with the annual Coyotes drama on and off the ice for the Arizona Coyotes in Glendale.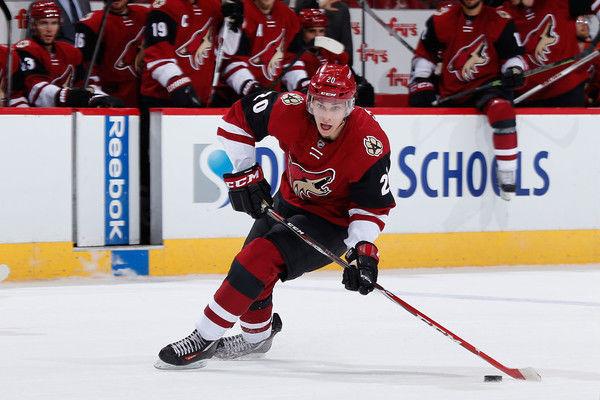 After IceArizona announced in late 2016 a deal with Arizona State University for exclusive negotiating rights for the team and school's Division I hockey team on an arena near the school.
That deal fell apart in February and the Coyotes owners quickly began pushing for legislative assistance on a bill to help build the team an arena.
National Hockey League Commissioner Gary Bettman then issued a warning to Arizona that if the Legislature fails to pass a bill to assist the Coyotes with paying for a new arena, the team may finally have to leave the state in early March.
While the bill never got to the Legislature and died, the team continued to struggle, missing the playoffs for the fifth straight season.
In June, Andrew Barroway became the sole owner of the team after buying out all the minority owners for a reported $240 million – bringing his total paid for the team at a rumored $305 million since 2015.
In July, the Arizona Coyotes introduced Steve Patterson as the club's new president and CEO, new head coach Rick Tocchet, as well as John Chyka, who has been promoted to president of hockey operations and general manager.
New majority owner Andrew Barroway, whose purchase was approved by the National Hockey League Board of Governors last week after weeks of discussion, continued to push for a new arena in the Valley.
"Like (Commissioner Gary) Bettman said, I believe in this market, this team and our fans," Barroway said. "Our primary focus is finding a long-term home for the Coyotes in Arizona."
As the new season kicked off in October with high hopes, the team has again struggled as it went 11 games without a win and has lost 23 of its first 35 games. The team announced in late December it would remain in Glendale for at least one more year through the 2018-19 season.
GCC honors five with hall of fame induction
Glendale Community College likes to say, "Once a Gaucho, always a Gaucho," and numerous former athletes regularly return to show their support of the school. During a recent showcase of school athletics, the school enshrined five new members to GCC's Hall of Fame in the 2017 class.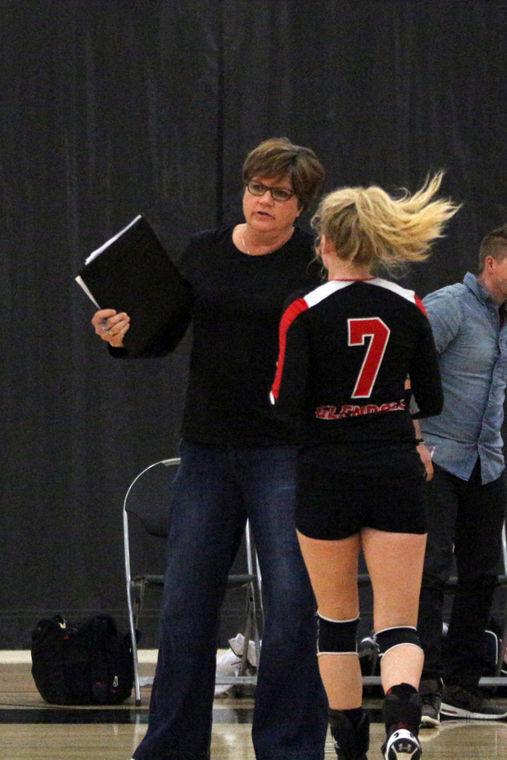 Those enshrined in this year's class were the 1998 Women's volleyball team, former baseball player Jeff Huson, cross country runner Scott Giddings, former basketball player Ron Davis and former head football coach Joe Kersting.
Reflecting the spirit of GCC, the campaign put the spotlight on GCC student-athletes and culminated with their second group of Hall of Fame inductees.
The former athletes and students were enshrined for their personal and professional accomplishments, and positive contribution to the college and community set them apart.