"We were very moved by the respect that your community and your American Legion Auxiliary Unit in Peoria has for veterans. This country needs a good dose of what has and continues to make it great," wrote Ernie Rodgers, a Vietnam Army veteran who attended the March 15 spring training game at Peoria Sports Complex.
In recognition of The American Legion's near century of service to military, veterans and youth, the Peoria Sports Complex partnered with Peoria's John J Morris Unit 62 American Legion Auxiliary to deliver a 97th American Legion Birthday Bash dedicated to veterans.
Dozens of volunteers, of all ages, from The American Legion family were on hand to demonstrate their respect and gratitude to veterans and to engage the community in that effort. Because it was spring break from school, younger members were able to participate. Together, junior and senior volunteers handed out nearly 4,000 poppies, 1,000 can koozies and 200 American flags as more than 5,000 fans entered the gates for the Cubs/Padres game. Poppies are a 100-year-old symbol memorializing the loss of life on the battlefield, while the can koozies contained patriotic messages.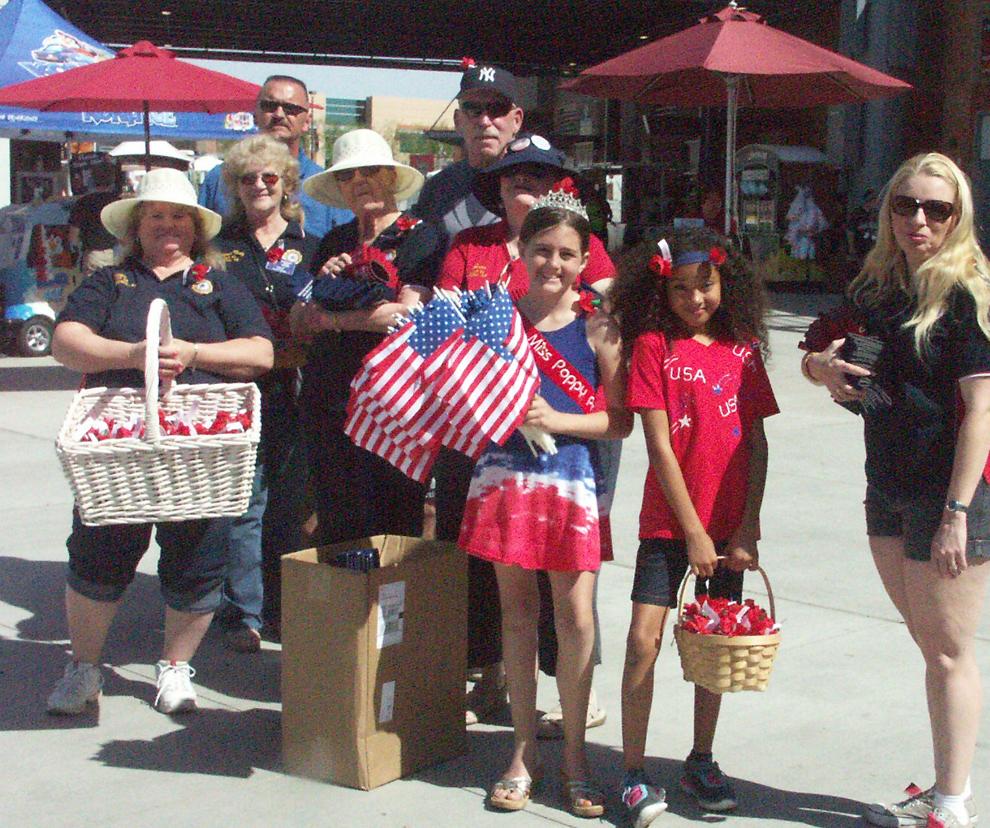 The event opened with the rousing musical medley of the armed forces - Army, Navy, Coast Guard, Air Force and Marines. It was followed by the presentation of colors by the Color Guard from American Legion Post 39 under the leadership of 21-year Marine veteran Pete Brown.
A highlight of the event was the performance of the National Anthem by Post 62 member Bob Mrkvicka from Peoria. Mrkvicka, a section leader for the U.S. Academy Band at West Point for 16 years before retiring, performed the National Anthem on his flute as the crowd sang along.
Joining the American Legion Arizona Department Commander Billy Ellis to throw the first pitch was the auxiliary's Arizona Department president and El Mirage resident, Josephine Herrera, and Peoria Mayor Cathy Carlat, Unit 62 member.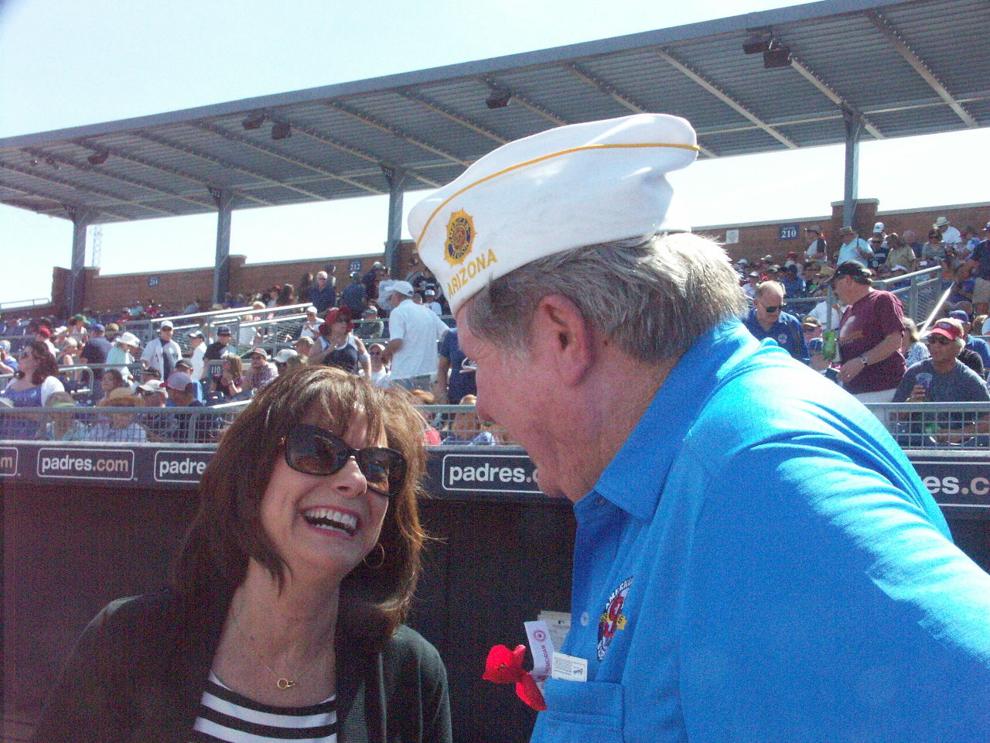 Also on the playing field were the auxiliary unit's Poppy Princesses, Emily Quigg (Scottsdale) and Andie Webster (Peoria), along with junior member Dasan Benoit (Glendale).
"We wanted to share the excitement of being on the playing field with our junior member girls. So, after strict instructions to 'sit still' in the chairs provided along the dugout wall, they proceeded to, instead, turn around and engage Padres manager Andy Green in conversation through the fence," laughed Marge Christianson, the auxiliary's event coordinator.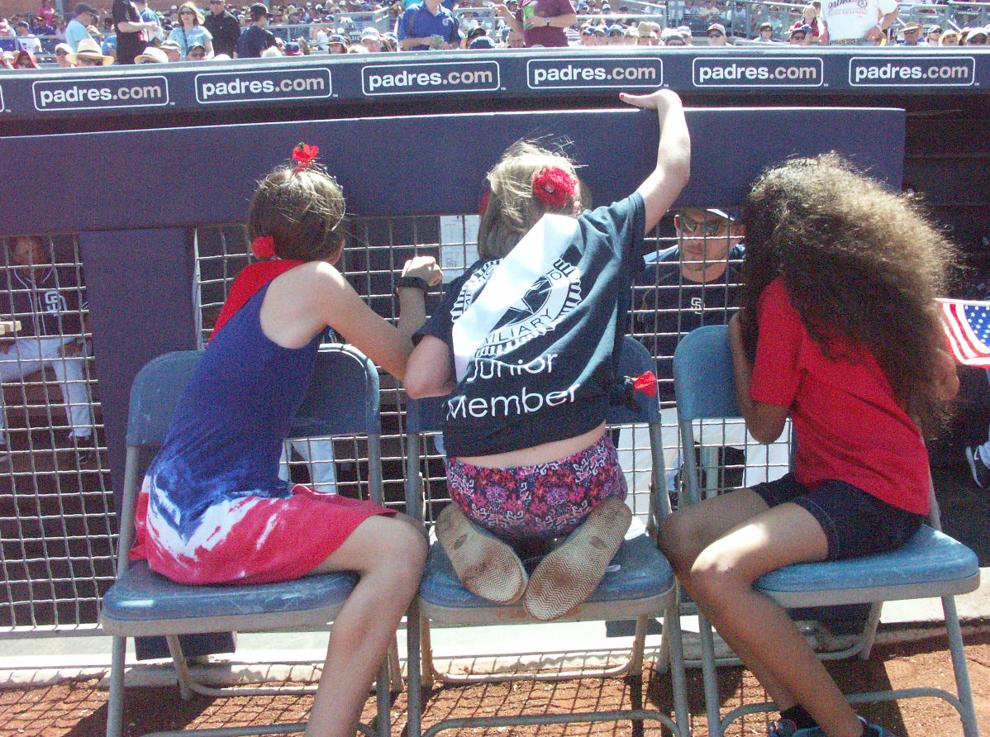 Later in the game, the Peoria Sports Complex arranged for "Happy Birthday" to be sung to the American Legion. American Legion volunteers walked through the stands handing out 1,000 patriotic cookies with thank-you notes for veterans.
"It was especially touching to receive a note from a Vietnam veteran," said Amy Hankins, Surprise resident and president of Unit 62 Auxiliary. "For many Vietnam vets, 'thank you' events like these remain understandably too little, too late."
Perhaps for Ernie Rodgers, it is better late than never.
He ended his note to Unit 62 by saying: "Thank you, John J. Morris ALA Unit 62, for the wonderful surprise that put tears in eyes of many grown men and their wives. God bless your members and volunteers."
March 30, 1973 was the first date combat troops were no longer present in Vietnam and has been designated as "Welcome Home Vietnam Veterans Day." Today, 43 years later, many Vietnam veterans still suffer the effects of an unheralded return after performing their often horrific duty to the country. You are encouraged to take the opportunity to "welcome home" a Vietnam veteran any time you can.
American Legion Auxiliary members have dedicated themselves for nearly a century to meeting the needs of our nation's veterans, military and their families both here and abroad. They volunteer millions of hours yearly, with a value of more than $3.1 billion.
As part of the world's largest women's patriotic service organization, Auxiliary volunteers across the country also step up to honor veterans and military through youth patriotism education, annual scholarships and with ALA Girls State programs, teaching high school juniors to be leaders grounded in patriotism and Americanism.
To learn more about the auxiliary's mission, or to volunteer, donate or join, visit www.ALAforVeterans.org.
For more information about Unit 62, visit its website at www.Post62AZ.com. The unit may be contacted at ALAunit62AZ@gmail.com.