The Wildlife World Zoo, Aquarium & Safari Park welcomed its second baby sea lion in less than a year.
The yet-to-be-named pup was born July 8 and weighed 18 pounds. He was the first baby born to the zoo's eldest sea lion, 9-year-old Andi, and brings the zoo's total sea lion count to five.
The Glendale Star popped in to the zoo the morning of July 26 just as the little guy was getting a "swim lesson" from Stephanie Johnson and Hailee Tocco, both sea lion trainers. It was his third day in the big pool.
"We call this a swim lesson because California sea lions are born on sandy shores in a rookery type setting," Director of Sea Lions Emily Sabo said.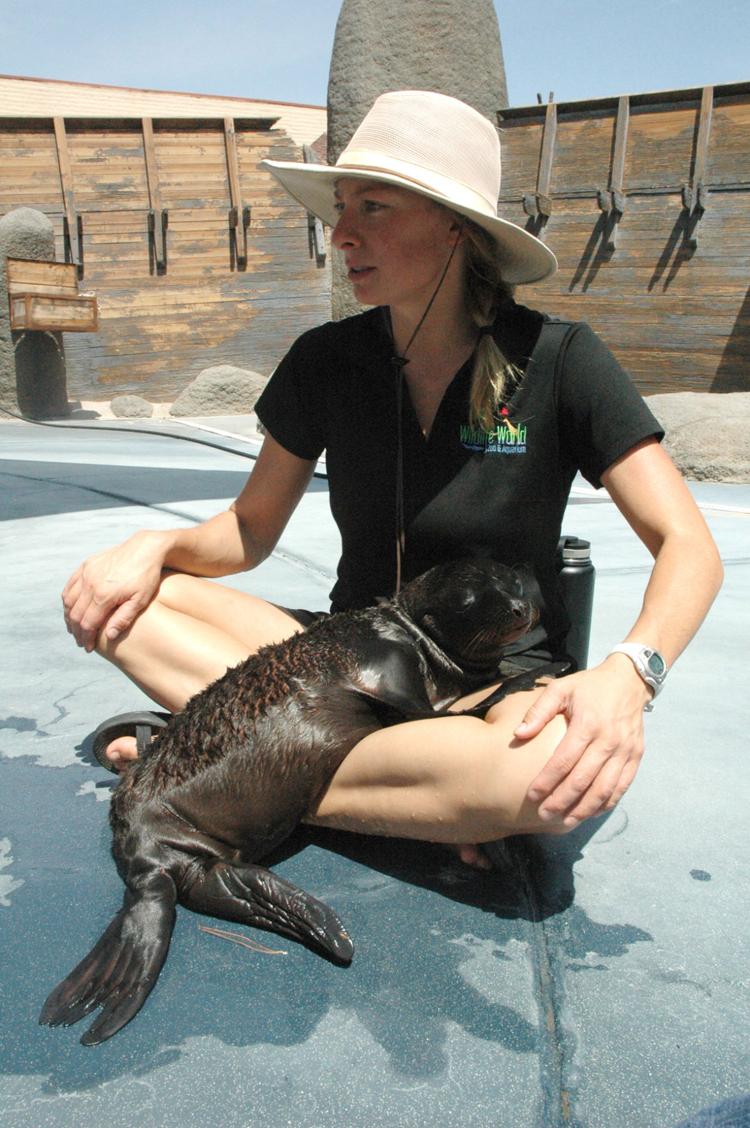 The mothers will bond and nurse with their pups for the first 10 days of life, but then go out to the ocean to hunt, she explained.
"So that's when the pups start experimenting in shallow water because the ocean, of course, slopes down, so this is the perfect setting for us to mimic the natural habitat and what they would do," she said, referring to the zoo's beach or zero entry pool. "So we have our trainers available in case he gets brave and he wants to swim out, he can swim out in the deep, we're not worried about anything, but mostly, he plays in these shallows, practicing his breath holds, practicing looking under the water."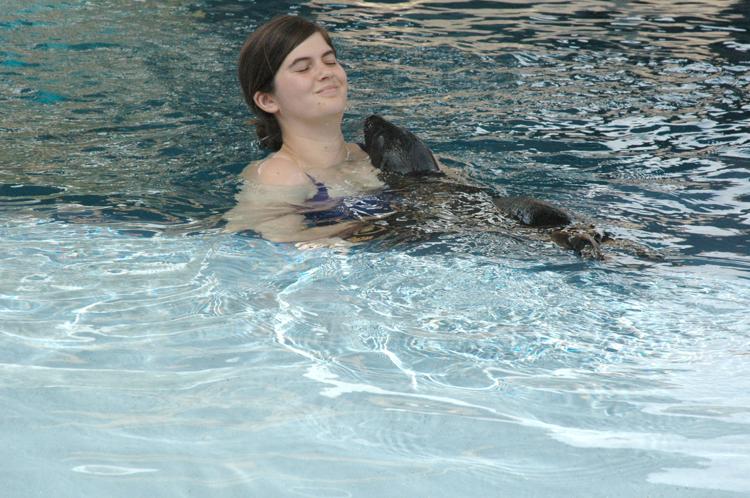 She said Johnson and Tocco act as lifeguards for him.
"And it's not a tough job for us, either," Sabo said.
Johnson and Tocco agreed, saying they love going to work every day.
Despite their name, sea lions aren't born knowing how to swim.
"They don't have the capabilities of holding their breath, this is all a learned process," Sabo said. "So starting at about day 8, we brought in a little kiddy pool with about 2 inches of water and just let him get the feel of water. And then what we did is we slowly raised that level up and up and up, so what you're seeing is this is the third day with him in the big pool, but still in just a couple inches of water."
She said he'll swing his butt out into the deep end and let the current take him out a little ways and then swim back to the shallow area.
"So just as you would imagine us swimming, it's very tentative learning, just figuring out how his body moves," she said.
Sea lions are born on land, far from the sea.
"So mom will seek plenty of land. Since her pups don't know how to swim when they're first born, they want to make sure that it's not by the shoreline so he can't wander off," she said.
Sea lions are typically born between May and August, the same time period for breeding. Pregnancy lasts about 10 months, but the mother can delay implantation for up to two months.
"So if we see breeding in May, Andi is capable of delaying that implantation of the egg for another two months to make sure conditions are right," Sabo said.
The new pup will nurse for about a year and then start eating fish, at which time his "formal" training will begin.
"So about a year old, we'll start some formal training, follow the target, touch our hand, learn where our station is, learn to eat fish even, and that's when the formal training starts," Sabo said.
The sea lion exhibit opened five years ago and like the rest of the zoo exhibits, strives to promote conservationism.
"One of the reasons we have California sea lions here and a real big passion of our jobs is to educate the public on conservation," Sabo said. "Through all of our shows and our public feedings, we really want to inspire the public and educate to let them know that conservation starts at home. Even here in this state of Arizona, it's really important, our trash does end up in our world's oceans, where especially this little guy can get entangled in."
She said plastic bags look like fun jelly fish to be played with and six-pack plastic rings can and have been caught around pups' necks.
"Every day, our California sea lions and other marine mammals are dealing with entanglement of fishing lines and fishing nets and marine debris and all of our plastics that have ended up in our ocean," Sabo said. "So we have a lot of movements that are going on everywhere for just education about conservation and it really starts with recycling, reducing our overall plastic consumption, carrying your own water bottle, stop using plastic drinking straws."
She said cutting six-pack plastic rings helps, "but what we would ask is one step further is to see how you can purchase those items without plastic on it."
To learn more about ways to conserve, visit the zoo's website at http://www.wildlifeworld.com/ and click on "conservation."
The public will be involved in naming him, as the zoo will hold a naming contest once he goes on exhibit with his mother, something that will happen on their schedule.
"We go at the timeline of really the mom and the pup, so there's really no official date that he will be on exhibit swimming with the population," Sabo said. "Because we want to make sure that mom is comfortable with him swimming with the full population and that he's comfortable swimming, and he dictates how quickly he'll be comfortable swimming."
One sea lion in particular is quite possibly looking forward to that date more so than even the public.
Sunny was the first sea lion born at the zoo and he will turn 1 year old Aug. 17.
"Sunny probably can't wait," Sabo said. "Just how you would imagine brothers, just that young spunk, Sunny loves to play with toys right now, so this is just going to be a toy on the move."
The zoo, at 16501 W. Northern Ave. in Waddell (on the corner of Loop 303 and Northern Avenue), is open seven days a week, 365 days a year, including all holidays. Zoo exhibits are open from 9 a.m. to 6 p.m. (last zoo admission is at 5 p.m.) and aquarium exhibits are open from 9 a.m. to 7 p.m.