From bold, broad brush strokes, to measured lines and curves, to a digital print, the black artists on exhibit for the next month at West Valley Art Museum have stories to tell.
Arne Williams spoke to a small audience at an artists' reception last week, and gave a simple explanation about his photography.
"Photography is really important in communicating the message," he said.
He is the photography department head at Phoenix Center for the Arts, also teaches photography at Phoenix College.
"I do this because I love it," Williams said.
Marlene Wilson told the audience she never felt she had much talent as a child. But, her watercolors tell a bigger story. One of her paintings, "Hallelujah," depicts three women with outstretched arms reaching for the heavens. The exhibit at Peoria City Hall Gallery is her first.
Featured artist Michael Cunningham had his audience spellbound with the story of his life, from humble beginnings in New York near Belmont Park, to his military life, his culinary arts beginnings, and love affair with the New York Metropolitan Art Museum.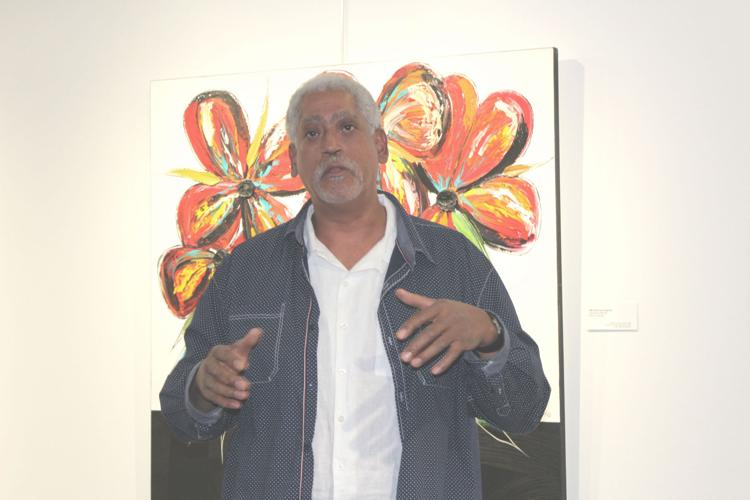 "They had a temple with water around it," he said. "I used to sit there and eat my lunch and pretend I was a pharaoh. I said to myself, 'One of the these days, I'm going to go to Egypt.'"
His creative visualization also helped him meet his wife.
Once married, the couple moved to California, where Cunningham attended the California Culinary Academy. Upon graduation, he landed a job in Palm Springs at the Ritz Carlton. He decided that was not where he wanted to live.
It was farther north where the couple settled, in Laguna Miguel, which had lots of art galleries.
In no time, he said to himself, "I bet I can do this."
So, he went to an art store and bought "a whole bunch of stuff," and started painting.
"The very second that brush and paint collided with that canvas, it was boom! In four and a half years, I had 150 paintings," he said.
He came home from work at his day job and saw a lot of people parked on his street and entering his home. His wife had labeled and priced all of his paintings.
"At the end of the night, I had three paintings left," he said.
He got into a juried art show in Beverly Hills. He was the new guy.
"It happened again," he said. "It seemed like everywhere I went, I sold out."
Like most artists, Cunningham went through periods of painting certain subjects at length.
"I went to the point with flowers and butterflies, if I paint one more, I'm going to shoot myself," he laughed.
At one time, he was painting two to four canvases a week. Now, it is one every four months.
He may paint a butterfly, but mostly these days, he is into abstract works.
He touched his heart when he said, "As an artist, it's knowing your place in space. You have to find it here. My work is not about to find approval."
For how long has he been painting?
"In retrospect, 20 years," he said. "In reality, all my life."
Four diverse artists are featured in "Creative Works by Black Artists" on view through Feb. 22 in the West Valley Art Museum Gallery on the first floor of Peoria City Hall, 8401 W. Monroe St., Peoria. It is open free to the public 10 a.m. to 4 p.m. Mondays, Tuesdays and Wednesdays; and noon to 6 p.m. Thursdays.
For more information, or to schedule group tours, contact WVAM at 623-972-0635, or www.wvam.org.