Even though our history is all around us, in today's fast-paced society, where we zoom from one task to another, it can be difficult to slow down and appreciate the stories hidden in plain sight of those who lived here long before us.
Before downtown Peoria was home to the Peoria Center for the Performing Arts, Lucidi Distilling Co. and Driftwood Coffee, the area was speckled with farming families living in harsh conditions and finding innovative ways to bring water to the unforgiving landscape. Farther north, the Sunrise Relief Mine was active and said to be "rich and full of golden promise." Nearby, the treasured Palo Verde Park and Ruins once served as a lively trading post for the earliest settlers of the Hohokam tribes.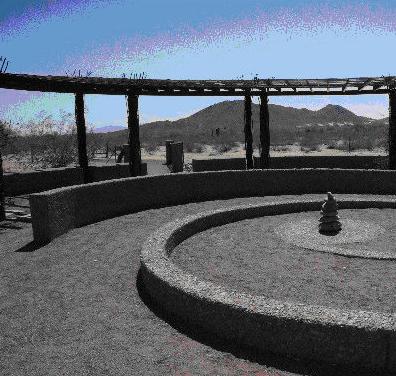 Although we are considered a young American city, Peoria has a remarkable history. Pioneers persevered with determination and grit to develop the lands — the same lands that we are proud to call home today.
A man who knows this well is Peoria resident, local historian and former Peoria Quality of Life Committee member Howard Openlander. A self-professed history buff who prides himself on "enjoying history and nature," Openlander has spent countless hours studying Peoria's history and serving as an advocate for our unique Sonoran Desert.
Openlander's interest developed first on a personal level as he learned more about his own family story in the Midwest. Once he moved to Peoria, he was drawn to learn more about the multifaceted and rich history of our lands.
Having a great appreciation for the outdoors and as a former member of an archaeological society, Openlander has enjoyed learning about Peoria's earliest inhabitants and their culture.
The river corridors of north Peoria contain several significant and important Native American and contemporary historic sites. The area is home to some of the earliest settlements in the region. The Hohokam established settlements along the Agua Fria and New River corridors between A.D. 1 and A.D. 1450.
Illustrating the prehistoric culture of our city well is the Palo Verde Park and Ruins, which is located near 67th Avenue and Happy Valley Road. Listed in both the Arizona and National Registers of Historic Places, the park includes an open space preservation area, a modified preserve area, and an adjacent recreational park, which shares the story of how our earliest settlers used the lands. We were proud to see that the Palo Verde Park was recently recognized by Gov. Doug Ducey's Archaeology Advisory Committee Awards in Public Archaeology.
Openlander's interest also led him to the Sunrise Relief Mine, which once served as an active mine in the late 1800s and early 1900s, and contributed to Arizona's rich legacy of gold mining. Situated on Sunrise Mountain near 91st Avenue and Happy Valley Road, one of the mine's entrances is easily identified by the signature "bat-cupola," which was constructed to help protect the threatened California leaf-nosed bats, while also protecting curious residents. Even though the gold is long gone, the rust-colored grate is a reminder of times marked with the anticipation and excitement of the Gold Rush, and the hardship of the Great Depression.
Preserving Sunrise Mountain was one of my greatest priorities as mayor and a project I was proud to accomplish alongside the City Council.
In downtown Peoria, a wonderful mix of old and new is in motion. With downtown revitalization efforts underway, your city leaders are working hard to preserve the charm and culture of Old Town Peoria, while paving way for future growth. We are proud to have several iconic sites listed on the National and Local Registers of Historic Places, including the Peoria Central School, First Presbyterian Church, Peoria Woman's Club and the Peoria Jail House. Those sites serve as longstanding and cherished reminders of Peoria's beginnings.
Peoria's lands have a great story to tell and by taking the time to learn more about the areas, we can understand the influence that those who came before us have on the lives we lead today. Through the preservation of our important assets and beautiful lands, we remain committed to carrying our incredible heritage with us and passing it along to future generations.
To learn more about these iconic sites, visit: https://www.peoriaaz.gov/government/departments/planning-and-community-development/historic-preservation/peoria-s-history/.