It was a packed house in Old Town Peoria last Saturday when Peoria Unified School District, along with the city of Peoria, Valley Schools, Sky Zone, Theater Works, Bank 34, Whataburger, Musical Instrument Museum, McCarthy Construction and Peoria Education Foundation hosted the annual Arts & Cultural Festival.
Attendees listened to elementary and high school bands, watched dance and choir performances and theater productions, and participated in make-and-take crafts, petted animals, watched a ceramics demonstration and had their pictures taken in a photo booth.
Art was on display in all areas of Old Town, from first- to 12th-grade students within the PUSD.
Members of the Sun City Camera Guild were out in force as well, paying particular attention to photography entries. Member John Wood said the guild was involved with students in the five high schools within the city boundaries, and club members donated their used cameras to students in the photography classes.
Guild president Dan Evander and his wife, Rose, stopped at one work of art that was put together by Liberty High School's ABLE program Special Olympic Partners and Athletes. Titled "Wings Photo Prop," the collaborative art served as a backdrop for those who wanted to have their photos taken surrounded by the wings.
The Stephen Beck Jr. Achieving a Better Life Experience (ABLE) Act was signed into law in December 2014 and authorized states to establish tax-advantaged savings programs for individuals with disabilities. The act is considered by some as "the most significant federal legislation addressing the needs of persons with disabilities since the Americans with Disabilities Act" of 1990, according to the ABLE website.
Under a tent, ceramic art contests were taking place to determine who could turn out the widest plate, tallest cylinder and biggest and best vessel. There was even a contest for the best blindfolded throwing.
No matter what a student's talent was, it was on display for all to see.
No bullying was allowed. Peoria Police Officers Association and Charities and PUSD sponsored an anti-bullying art contest. The overall high school winner was Joseph Allred, a senior at Raymond S. Kellis High School, whose photo of hands of all colors intertwined, carried forward the contest theme of "All Different, All Equal."
Abigail L. Hudson's artwork won the sixth- to eighth-grade category. Hudson is an eighth-grade student at Canyon Elementary School.
Peoria High School sophomore Lyndzi Ramos was the ninth- to 12th-grade winner for artwork with her portrayal of children of different nationalities and one handicapped child with a rainbow overhead as they enjoyed each other's company on a playground.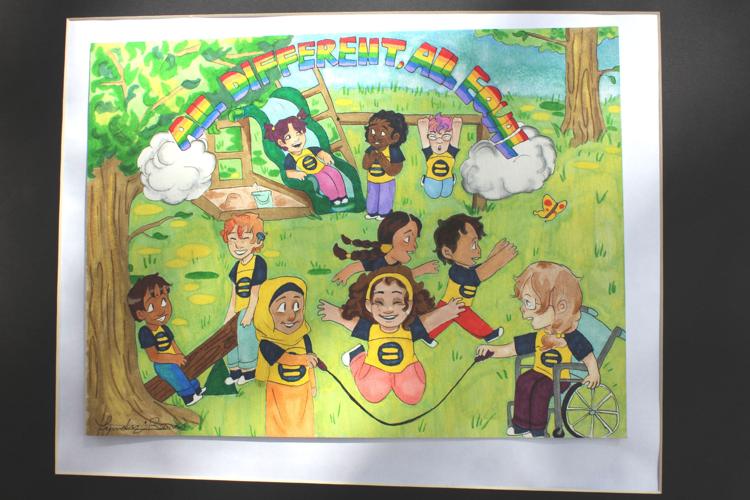 The third- through fifth-grade category was won by Melody Guevara, a fourth-grade student at Alta Loma Elementary School. Her art showed a world with people of many colors joining hands around the globe.
One art piece that was repeated by other students in her class was a colorful rendition called "Expressive Hand." Jasmine Martinez, a seventh-grader at Alta Loma Elementary, painted a hand with tears, hearts, flowers and rainbows set against a letter to someone she loved who had left too soon.
In all, the festival, from all outward appearances, was deemed a success. It was difficult to find a parking space in the immediate Old Town area, and hundreds had to take advantage of parking at City Hall, three to four blocks away from the heart of downtown.