Jan. 7 - Fry's to open new Marketplace store in North Peoria
Fry's will celebrate the grand opening 7 a.m. Jan. 13 of its newest Marketplace Store at 25401 N. Lake Pleasant Parkway in Peoria. Local dignitaries, community partners and Fry's management will participate in a ribbon-cutting ceremony later that same morning.
"We're starting off the new year, opening an amazing Marketplace store in Peoria," said Fry's President Steve McKinney. "Our team is excited to welcome its new neighbors and customers to the highly-anticipated store. Fry's goal is to have its customers enjoy a great shopping experience, which includes fresh food and friendly service from our great associates. Foodies will love visiting the new store as well."
Jan. 27 – Peoria hosts first Domestic Violent Summit
Domestic violence awareness and prevention summit delivered. The event held Jan. 21 at Peoria Community Center boasted service organizations to help individuals from babies to senior citizens. It was pointed out at the summit that domestic violence does not discriminate against age.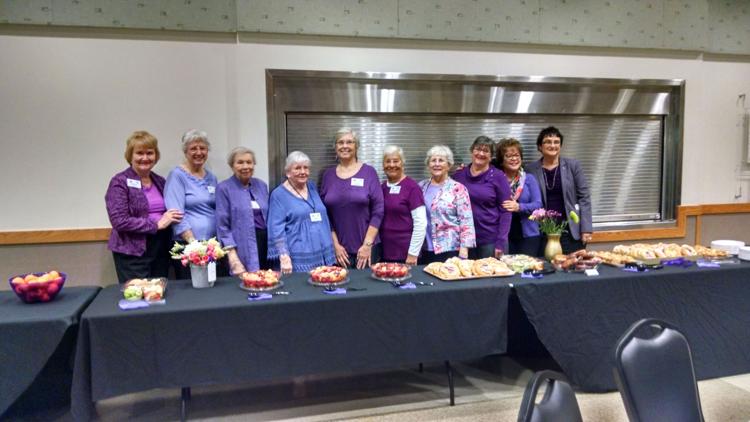 The event was hosted by Peoria-West Valley Woman's Club, and emceed by Acacia Councilmember Vicki Hunt. Peoria Police Chief Roy Minter gave a welcome address.
Minter said, "I'm sure you're all aware of the impact domestic violence has on a community. It is a very serious subject."
Feb. 10 - Submit your redistricting map by Feb. 28
The City of Peoria asked for citizens' help to redistrict city council districts after the 2015 mid-decade census. This does not affect school district boundaries, but rather helps to equalize the population sizes in each district that a city councilmember represents.
The deadline to submit a map online was Feb. 28.
Feb. 10 - Bus route on 83rd could begin in October
City officials are planning on implementation of bus service on 83rd Avenue from Camelback Road to the Arrowhead Transit Center on Bell Road by October. There are sufficient funds available in the Peoria transportation Tax to fund it until the Regional Public Transportation Authority picks up the operating cost.
Feb. 16 - City cuts ribbon, dedicates ambulance service
Peoria Fire Chief is not a man of few words, and Feb. 16, he had plenty to say, all of it good.
"It's easy to dream. That dream doesn't manifest until you get funding and support," Ruiz said. "It continues with a whole lot of support."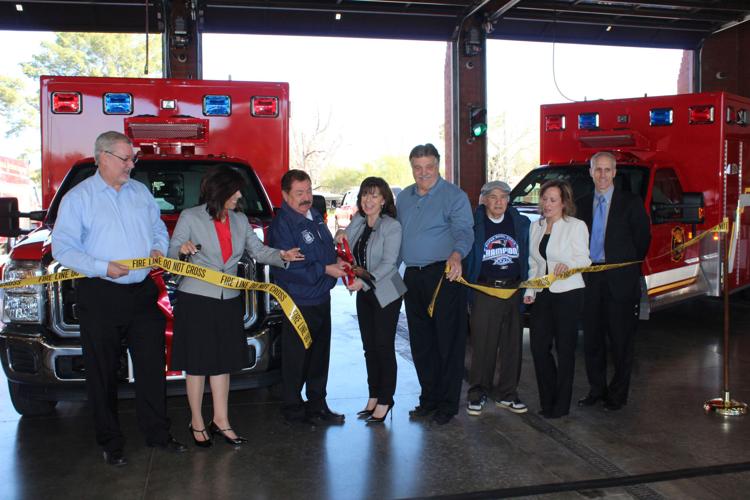 Ruiz was preaching to the choir that Thursday morning, as a large crowd gathered at Fire Station 191 to watch the fire chief, Mayor Cathy Carlat, city councilmembers and staff give brief statements about the importance of the city operating its own ambulance service.
Deputy City Manager Jeff Tyne told the crowd the department has nearly doubled its coverage area, with full service at Lake Pleasant. He said the fire department had found new ways to provide for low-acuity calls. He noted how the health care profession has changed in the past few years, and the city's new priority is maintaining patient care.
"From dispatch to the hospital – consistent care," Tyne said.
City moves quickly to comply with International Property Maintenance Code
Deputy City Manager Susan Daluddung began a council study session presentation Feb. 7 with the goal of a program she supervised this past year. Daluddung said the goal was to have "clean, good quality, well-maintained homes."
"There was strong and good reception from neighbors," Daluddung said, "because of abandoned and unsafe property."
The program was initiated to ensure the city is in line with the International Property Maintenance Code.
Property owners were notified of safety violations, and were requested to be on site for inspections. Outside engineers were brought in to inspect and determine if buildings were capable of being repaired, or beyond repair and recommended for demolition. All recommendations conformed with IPMC standards, Davies said.
In all, 12 homes were cited, with nine set to demolish. They were in the north, south and downtown areas of the city.
Dedication March 4 for Peoria's newest public art
The City of Peoria will dedicate two new murals with a brief ceremony 8:30 a.m. March 4 in front of Sunrise Mountain Library, 21109 N. 98th Ave.
"Coalescence" is on the southeast corner of Happy Valley Road and 93rd Avenue. "
"People of the Sun" sundial is on the north side of Happy Valley Road at approximately 94th Avenue.
For more information about Peoria's public art, call 623-773-5193, or visit www.peoriaaz.gov/arts.
GCC dedicating new veteran services center
Although Chuck Pierce has retired as its director, the Glendale Community College Veteran Services Center is still operating on the college campus. In fact, veterans now have a new service center on campus that will be dedicated 9 a.m. March 24.
GCC is ranked eighth in the nation among veteran-friendly two-year colleges. The GCC veteran services center bills itself as a "one-stop" service for veterans who want to pursue education.
Named a Veteran Supportive Campus by the Veterans Administration, the veteran services center can help veterans transition from military life to the academic environment, get academic support and move into a civilian career.
March 17 - Peoria considers partnership with ASU
Expanding on Peoria's existing technology and biomedical incubator, BioInspire, and its entrepreneurial ecosystem is a mission for the City of Peoria.
The City of Peoria is planning to capitalize on its investment in BioInspire, a technology and biomedical incubator, now being administered by BioAccel, a nonprofit that drives economic development through providing early-stage funding and accelerating commercialization of bioscience technology and devices.
Housed in a 6,800-square-foot center, BioInspire offers start-ups access to seed funding, wet lab space and business mentoring. The City of Peoria's goal for BioInspire has been to create high-wage jobs in the community and diversify the economy with growth in the biomedical device industry.
The ASU model, with BioInspire integrated in the ASU/Mayo Clinic network, would be the only West Valley location and the West Valley hub for technology, innovation and commercialization programs.
Whyte said the partnership would connect Peoria into the largest and most successful entrepreneurial network and tech acceleration program in Arizona.
March 31 – Mayor praises staff and council for budget and policy initiatives
Mayor Cathy Carlat gave a large presentation during her March 28 State of the City address.
The mayor said she and the council have, through budget and policy initiatives:
• Gave a major facelift to Old Town Peoria, setting it on a path for a true resurgence;
• Filled just about all the vacated buildings in our P83 District with a smart Reuse program;
• Strategically positioned specific land sites and buildings to attract private development;
• Brought first-rate enhancements to our important, year-round amenity, the Peoria Sports Complex;
• Completed phase I and began phase II improvements of the Veteran's Memorial Wall;
• Expanded public safety facilities, services, equipment, personnel, and programs; and
• Welcomed the needed services of Cigna and Honor Health to Peoria.
She called the acquisition of the remaining 123 acres on the top of Sunrise Mountain a purchase that preserves it for the residents of Peoria to enjoy, "now and forever."
For the first time in its history, the city now has an official flag, which Carlat unveiled.
"A flag signifies pride and represents the ideals and values of a people," she said.
May 17 - PUSD board votes no on new bond, for now
Less than a year after voters denied Peoria Unified School District's request for a bond for education, the governing board denied placement of a bond on the November ballot by a vote of three to two.
Board President Beverly Pingerelli and board members Judy Doane and Monica Ceja Martinez voted against the proposal while Kathy Knecht and David Sandoval were the lone supporters.
"I think we need a bond, I believe we have not had enough time with this one and I don't think we went out last time right after the override and we got slapped down," said Doane. "This is our children we are talking about and we need to make sure when we do submit it that it passes."
The $198 million proposed bond included $112.5 million for land acquisition and construction on one new high school, two new elementary schools and a Peoria Traditional School. It also included $35.1 million for technology, $24.3 million for performing arts center renovations, $12.6 million for other building improvements, $7.8 million for district-wide site improvements, $4.7 million for equipment and $1 million for transportation.
May 17 - Tohono O'odham Nation and State of Arizona settle casino litigation
The Tohono O'odham Nation and the State of Arizona jointly announced May 17 an agreement to settle their dispute regarding the Desert Diamond Casino West Valley near the City of Glendale.
Under this agreement, the Nation will move forward with Class III gaming at its West Valley facility under an amended tribal-state gaming compact. The state will process the West Valley facility's Class III gaming certification and liquor license in the normal course of the regulatory process. The state has also agreed that it will not oppose the Nation's efforts to have its land immediately adjacent to the West Valley facility taken into trust.
In exchange, the Nation has agreed not to conduct Class II or Class III gaming anywhere else in a designated geographical area that includes metropolitan Phoenix during the term of the agreement. Additionally, although the Nation will retain its ability to acquire new reservation land under the terms of Public Law 99-503, known as the "Gila Bend Indian Reservation Lands Replacement Act," the Nation also has agreed not to request that the Secretary of the Interior take any other land in that area into trust for the purpose of gaming during the agreement term. This compact amendment must be reviewed and approved or deemed approved by the Secretary of the Interior before the settlement agreement becomes effective.
This agreement will last for the remainder of the term of the Nation's current tribal-state gaming compact plus the term of any successor compact, or, if there is no successor compact, for 15 years after the agreement becomes effective.
The agreement puts to rest the last pending lawsuit over the West Valley facility. As part of the agreement ending the litigation, all parties will bear their own attorneys' fees for all of the legal proceedings relating to this dispute.
May 17 - Peoria City Manager announces retirement
Peoria City Manager Carl Swenson announced his retirement effective July 4, 2017, marking 11 years with Peoria.
Swenson began with the City of Peoria in April 2006, and was appointed City Manager in July 2008. During his tenure, Swenson successfully managed Peoria through the financial downturn without cutting city services and worked to assure a constant focus on delivering good value for tax and rate payers. He worked closely with the Mayor, city council and leadership staff to successfully complete a number of key projects and initiatives that have advanced the City of Peoria.
May 31 - Historical society elects new officers, board of directors
In a move to change leadership at Peoria Arizona Historical Society, a new slate of officers and board of directors was elected at the May 31 annual meeting, which is required by the organization's by-laws. Ballots were mailed to members along with a stamped envelope and opened in front of the members who attended the open meeting.
The meeting was held at Peoria Community Center, 8335 W. Jefferson St., due to the main historical society museum building being unavailable because of ongoing installation of duct work for the air conditioning system.
Sixty-three ballots were returned and opened. After all the tabulations were calculated, the following officers and board members were elected and took the oath of office:
President - Kevin Kosier
Vice President - Erik McMorrow
Secretary - Geri Fair
Treasurer - Karen Garbe
Directors:
David Sandoval
Mike Heath
Angie Amarillas Mortemer
Connie Hickle
Loretta Barmes
June 2 - Citizens question patrol officer shortage
A series of back and forth emails resulted in answers to questions about operations at Peoria Police Department. During the April 18 Peoria City Council meeting, Police Chief Roy Minter explained hiring figures and actions taken since budget talks ended in March. Minter told council there were 13 vacant positions. He mentioned operational improvements included a timesaving idea from Peoria Police Officers Association to shorten report forms, and patrol enhancements added to include a telephone report writing unit, which, Minter said, takes stress off officers.
A break in the Minter report came from Mayor Cathy Carlat, who wanted to hear public comments. That is when Bob Clure and two other public speakers aired their concerns about police response times in Vistancia and other parts of north Peoria.
The following week, during a sit-down interview, Clure said there were inappropriate staffing levels at the police department.
"I'm going to help them make this a priority," Clure said. "I'm not going away. I have nothing to gain," and he added he will work to make sure "these officers are working in an environment that's safe and life-balancing."
June 13 – Council selects Jeff Tyne as new city manager
Jeff Tyne, an employee for nearly 20 years, was approved unanimously by Peoria City Council as its new city manager. Tyne has served as a deputy city manager since 2013. Before that, 2011 and 2012, he served as community services director, where he was in charge of parks, libraries, recreation programs, the sports stadium and arts activities. His longest tenured position was as budget director, 1997 to 2013, where he managed budget development, strategic initiatives, policy analysis, performance management and grants management.
City pronounces June 27 Kellis Cougars State Baseball Championship Day
During the June 27 city council meeting, Mayor Cathy Carlat presented a proclamation to the Kellis Baseball team pronouncing it Kellis Cougars State Baseball Championship Day.
The Cougars, who were ranked No. 13 heading into the 5A state baseball playoffs, completed an improbable playoff run with a 10-5 victory over Gilbert Campo Verde in the 5A state title game May 16 at Tempe Diablo Stadium.
July 13 - Challenger Center forced to move after building sold
After more than 17 years in Peoria, the Challenger Space Center is being forced to relocate after the property owner announced they had sold the building.
"We were contacted by the building owner that the building had been sold in June," said Challenger Space Center Executive Director Beverly Swayman. "At the time, there was no timetable for that, but the new building owner has now told us we have to be out by Sept. 30."
Aug. 4 - Local attorney to serve as board president for Diamond Club
Burch & Cracchiolo associate attorney, Brian D. Greathouse, a Peoria resident, has been elected president of the Peoria Diamond Club (PDC).  The mission of PDC is to raise funds for local youth charities and organizations through extensive volunteer efforts during the Spring Training season. The PDC and its members are dedicated to supporting community programs that educate and enrich children's lives while enhancing their future.
West Valley physician launches bid to unseat Trent Franks
Hiral Tipirneni, an emergency room physician and cancer research advocate, is making a run for Arizona's 8th Congressional District. Hiral, a Democrat, is running for Congress, she said, to take on Washington special interests by putting the district's residents first.
"I believe in solving problems and improving lives, which is all about people, not partisanship," Tipirneni said in a press release. "That's what I did in the emergency room, and I'm running for Congress to do the same."
Hiral has served the Phoenix area for more than two decades, first as an emergency room physician. Most recently, she joined the board of directors of the Maricopa Health Foundation, which supports the county's public health care delivery system.
Aug. 3 - New trailhead opens
The City of Peoria has completed the second river trailhead along the New River Trail System. The New River Trailhead at Fletcher Heights provides access to the New River Trail that connects several miles of trail through the Valley.
Peoria's Chief Financial Officer dies unexpectedly
The City of Peoria's Chief Financial Officer, Brent Mattingly, died unexpectedly Sept. 9. Mr. Mattingly served in the city's finance department for 20 years and as chief financial officer for the last 10. He played an integral role in the city's financial management and brought tremendous leadership, ingenuity and passion to his work.
A memorial service was held Sept. 21 at Christ's Church of the Valley in Peoria.
"We are heartbroken and our deepest sympathies are with his family – his wife, Connie, and sons, Connor and Blake," City Manager Jeff Tyne said. "Brent was a very close friend and treasured member of our Peoria family."
"I am deeply saddened by Brent's passing," Mayor Cathy Carlat said. "He was not only an admirable leader, he was a man of incredible integrity. His deep commitment to Peoria has been a cornerstone of our financial strength and consistency. Our city is better because of Brent Mattingly and he will be greatly missed."
Oct. 6 –$70 million multi-specialty health center planned for Peoria
The Maricopa County Special Health Care District Board of Directors last week voted unanimously to put the first stake in the ground for the reinvention of safety net health care in Maricopa County. The board voted to expand Maricopa Integrated Health System's healthcare services with the construction of the West Valley Primary & Specialty Care Center in Peoria.
The new facility at Grand Avenue and Cotton Crossing will sit on approximately 20 acres and have approximately 127,000 square feet for a total project cost of roughly $70 million. In 2014, the MIHS board put on the county-wide ballot a $935 bond for various projects. It was overwhelmingly approved by voters.
Oct. 6 - Daluddung says goodbye to public life
Susan Daluddung, Peoria deputy city manager for the past nine years, said farewell Tuesday afternoon at a small party held in her honor in the Public Safety Administration Building, home to one of her department responsibilities.
In addition to the police and fire departments, Daluddung oversaw the department related to sustainability. It was one of her passions and she was the driving force behind the LEED-certified structures built within the city and bringing the city's utility expenses down considerably with lower-cost sustainable lighting.
Oct. 23 – Bus Route 83 opens
It was a meeting of the minds, when officials from Peoria, Glendale and Phoenix convinced Valley Metro to make its largest expansion ever. The new Route 83 from Bell Road to Camelback Road on 83rd Avenue spans nine and a half miles.
The route starts at Bell Road Transit Center north of Bell Road. Routes run 5 a.m. to 10 p.m. Monday through Friday and 6 a.m. to 10 p.m. Saturday and Sunday.
Oct. 28 - Ugly yards are temporary; Neighborhood Pride is forever
A large Neighborhood Pride event took place last Saturday.  It completed continued efforts from the prior year in the Cobblestone Village neighborhood in the Palo Verde Council District, which is just north of Cactus Road off of 87th Avenue.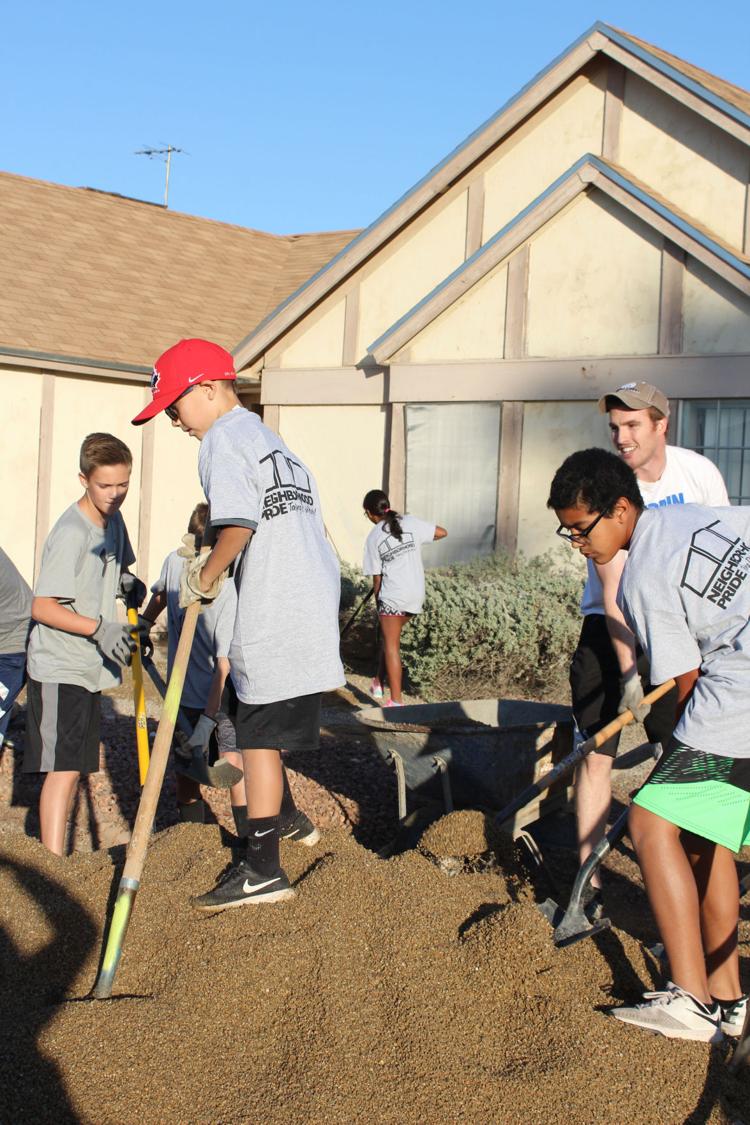 The project was one of the largest volunteer efforts in the program's history. It included approximately 500 to 600 volunteers mainly from the Peoria North Stake, Church of Jesus Christ of Latter-day Saints.
Nov. 7 - City dedicates new $11 million police facility in North Peoria
Nearly 16 years after opening the original Pinnacle Peak Public Safety Facility, the city showcased a new expansion with the grand opening of the second facility Nov. 7.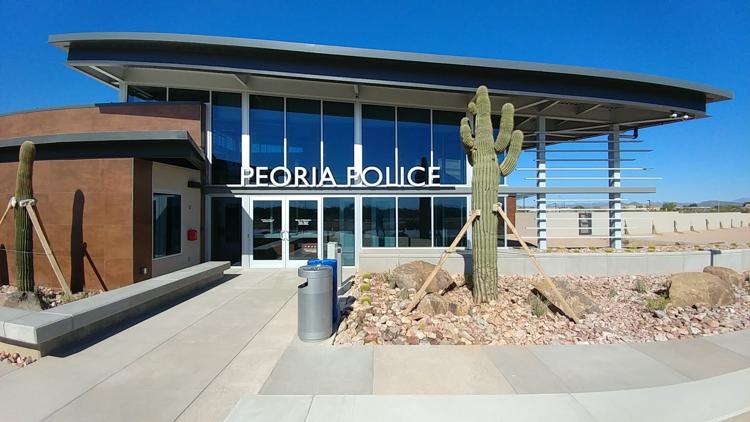 "It's been a long time coming, but welcome to the grand opening of the Pinnacle Peak Facility," Mayor Cathy Carlat said. "The Peoria Police Department works diligently to ensure a safe and secure city for all those that live, work, play and visit the city and this new building will continue to support the high standards we are committed to providing for the department."
The new building cost the city $11 million and gives the police department 17,000 square feet of space for new adult and juvenile holding areas, expanded patrol briefing area, large exercise area, training and locker rooms, report writing area, interview rooms, supervisors' offices and community room.
Nov. 11 - City shows pride and gratitude for veterans
The Veterans Day ceremony brought out hundreds of people to the park. They arrived early, milled around and visited with other like-minded patriots. This was a day to pay tribute to the men and women who have died, been wounded, those who survived, and those still serving in our country's armed forces.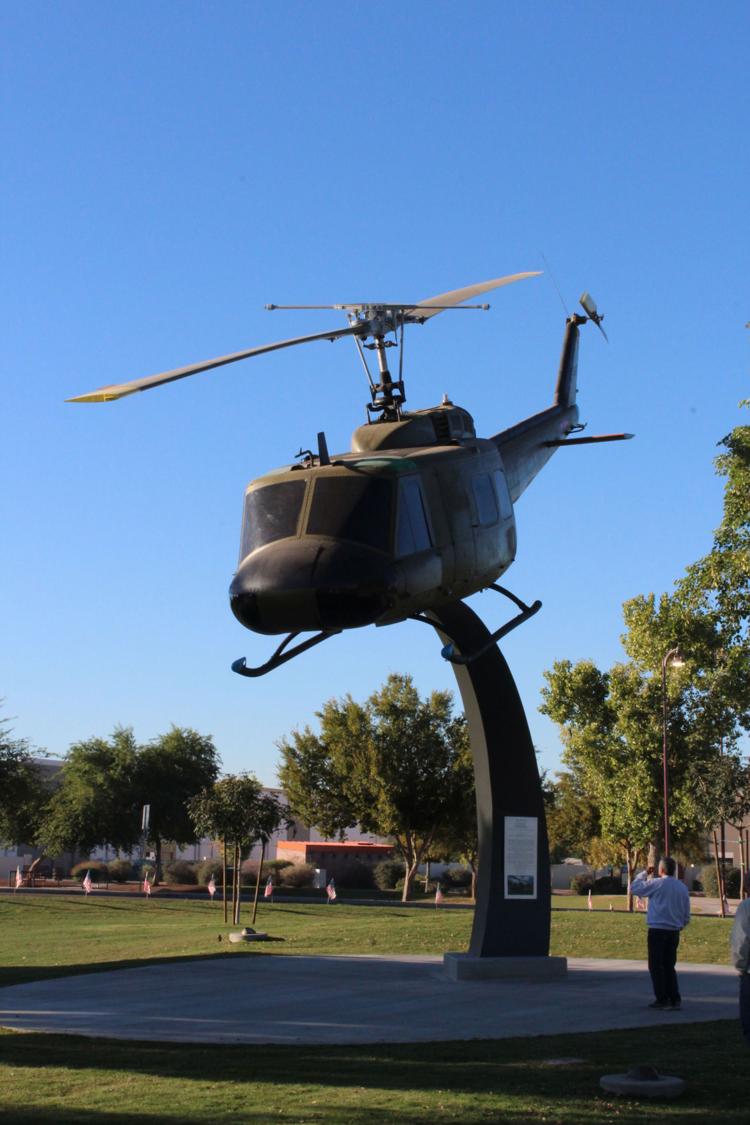 Mayor Cathy Carlat to addressed the crowd. She did not disappoint. Instead, she talked about her own experiences, hearing stories from her dad, who served in the Korean War.
When she visited the Korean War Memorial in Washington, D.C., she said, while she was looking at the 19 life-size statues, "I saw my father's eyes looking out at me from the faces of those men. I understood what my father must have felt."
This year, the city unveiled its replica of the Iroquois UH-1 "Huey" helicopter. The Huey is a symbol of America's strength and determination, Carlat said. "The rhythmic strumping sound of lifting to safety" our troops in Vietnam.
The mayor said she hoped the veteran memorial would be "a calm and welcoming place to soothe the soul."
She reminded younger members of the audience freedom is not free.
"America is free only as long as it is home to the brave," she said.
Dec. 7 - Trent Franks resigns
Amid allegations of "inappropriate behavior," Rep. Trent Franks of Arizona announced Dec. 7 that he would be resigning from Congress effective Jan. 31.
Just hours later, he issued an updated statement, pushing his resignation up by a month and a half.
Gov. Doug Ducey announced the general election primary for Congressional District 8 will be held  Feb. 27, 2018, with the general election to be held April 24, 2018.
All candidate petitions are due to the Secretary of State's office no later than 5 p.m. Jan. 10.