After 10 seasons as head coach of the Glendale Community College football teams, Michael Bell enters what could be the final season of the sport at this level with eyes on one thing, consistency.
"I am not doing anything different, just really enjoying being around the team," Bell said.
The Maricopa County Community College District announced in February it would cut football at the four remaining schools that still play the sport, but numerous groups continue to fight to save the sport.
GCC football, along with Phoenix, Mesa and Scottsdale, plays in the Western States Football League (WSFL), which is part of the National Junior College Athletic Association with those schools ending after this season.
But Bell continues to focus on improving a team that has struggled the past five years since the Gauchos last made a bowl game (2012). Since their last playoff berth, Bell's teams have compiled a 15-36 (.294) record.
After finishing last season 2-8, Bell was focused on recruiting size as he brought in a group of players with size and speed that was showcased during recent practices.
With 32 freshmen expected to return from last year's team, led by defensive standouts Drewe Jackson, Antwan Woodbury, Rashie Hodge and D.J. Charles, the Gauchos are expected to be strong on defense after struggling last season.
Bell said the increased size and speed is expected to improve a defense that allowed an average of 422.9 yards and 39.2 points per game in 2017.
"Our philosophy is to be fundamentally sound," Bell said. "With our increased size and speed, if we stay healthy, they will be the key to our success."
Cornerback Charles, who had six interceptions for the Gauchos, returns to lead a defense that has shown great improvement in spring practice.
"We will run a 3-4 defensive scheme that will give us the ability to pressure the opponents," Bell said.
When it comes to offense, the team is expected to improve on last year's average of 315 yards and 23 points per game.
The offense is expected to be led by new quarterback Derek Kline (Phoenix Desert Vista graduate) and former Cactus running back Damaria Norris.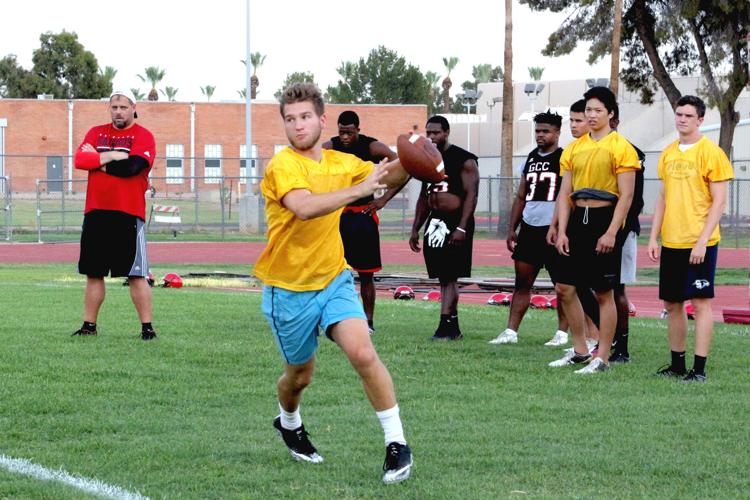 Kline threw for 1,568 yards and 14 touchdowns last year and Norris rushed for 1,966 yards and 34 touchdowns for the Cobras.
They will be protected on the offensive line by returning starters Kent Cullumber, Jalen Spady, Jacob Callaway and Andrew Ruelas.
Bell points to games against Phoenix College and Scottsdale Community College as key this year after losing to both schools last year.
"I do not like losing to those schools like last year," Bell said. "Phoenix has always been a rival dating back to my playing days in the early '80s and I want the guys to play to the best of our abilities."
While the Gauchos have a tough schedule, they should be greatly improved this season as they aim toward a final season. They open against Scottsdale and Mesa at home before traveling to Phoenix. If they can win their first three, GCC should have a shot at making a bowl game this season after struggling in past years.
GCC won NJCAA titles in 1998, 2000 and 2005, and the 2005 team is the only team from Arizona to be inducted into the NJCAA Hall of Fame. GCC has won the Valley of the Sun Bowl 19 times, the top bowl game for Arizona Community College football.
Bell said he believes his team can be successful if "we become a team and not a group of individuals. We need to be a team that comes together and sincerely cares for each other."